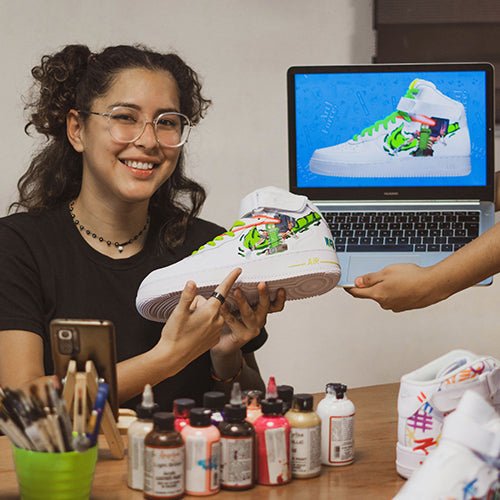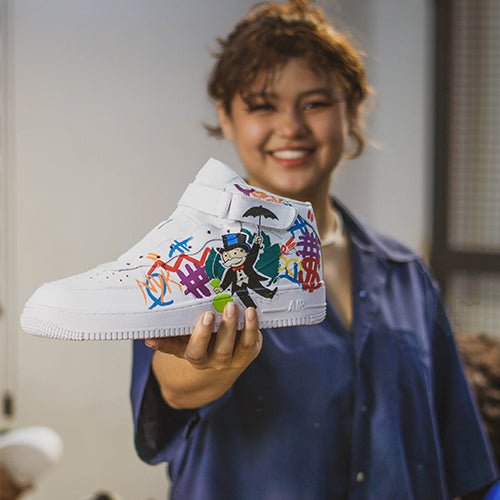 Online tennis customization course
⚡ Compra hoy y estrena en 15 días ⚡
---
Nos mantendremos en comunicación en todo momento
⭐Learn at your own pace from professional Mexican artists in the area
You will learn step by step to customize tennis professionally
In this course you will learn to customize and take tennis design to another level through painting and the intervention of other materials such as Swarovskis. Throughout the lessons you will see the importance of delving into a person's tastes to create a unique and exclusive concept, as well as losing the fear of experimentation.
Design, create and explore your creativity
You will get all the information you need to know about the materials you need, the steps and order to correctly carry out its application, as well as endless tips, all from the hand of one of the best Mexican tennis customization artists.
Who is it addressed to?
This course is aimed at art lovers, beginners and advanced who want to know in depth all the secrets for excellent customization, whether you want to learn to give a cool touch and a new life to your garments or you want to start your own business.
Content
This course consists of 10 lessons, plus a digital material kit.
When does the course start?
You can start immediately after making your purchase.

Are the courses broadcast in real time?
Our lessons are previously recorded, which will allow you to progress at your own pace and you can consult them as many times as you want at the most appropriate time. This will help you avoid the stress of mandatory deadlines or complicated deliveries.
Does this course have an expiration date?
Our course does not have an expiration date. By subscribing you will have access to our course for an unlimited time. In addition, you can view the lessons as many times as you want.
How can I resolve my doubts about the Lessons?
Within the course we have a section where we will provide you with information so that you can contact us directly and open a virtual session to answer all your questions.

You support Mexican Artists
With your purchase you support the economy of Artists from All Mexico, we are a Collective group with great talent
The perfect present
Let's see, let's be honest, everyone will be surprised to receive hand-painted shoes, it is an INFALLIBLE gift
Exclusiveness
Exclusivity comes in limited quantities, no one will have a pair equal to yours
You make your idea come true
We transform your idea into something real that you can use, and that is invaluable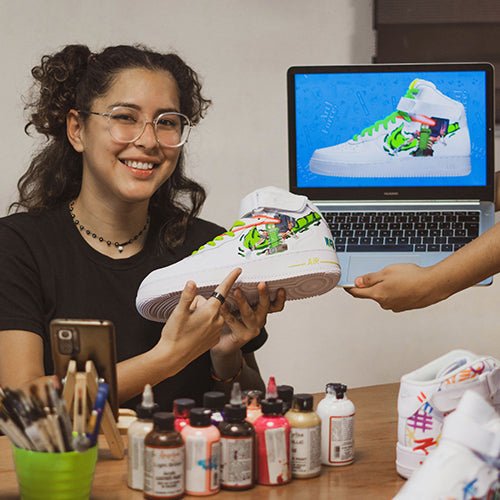 ¿How much time does my order take to arrive?

Thanks to our network of artists we promise to deliver your order within 14 to 28 business days. Remember that it is a handmade process and the time depends on the complexity of the design, the parcel services we use are DHL and Estafeta
What are the payment methods?

Debit and Credit Card
We have Months without interest with VISA and MasterCard cards
Term: pay little by little in the terms of your preference
Payment at Oxxo, Kiosk and Convenience Stores
PayPal
Cryptocurrencies coming soon
We currently handle shipments to all shipments to the entire Mexican Republic and the United States.
What packaging do you use?

The parcel services we use are: FedEx, DHL and Estafeta.
Where can I check the status of my order?

Tracking with which you can see the status of your order, movements and delivery date, and you can also contact us via WhatsApp at any time and you can also check our system by clicking here: CHECK THE STATUS OF YOUR ORDER
The paint we use is special for the work we do, it is called Angelus and it is the best material to work with.
This product has no reviews yet.